As an iPhone user, you can readily use information such as notes, contacts, iMessage, text messages, WhatsApp/Kik messages, pictures, and videos. But instances may occur when your iPhone might get broken, and you need to recover data from broken iPhone. 
If your iPhone has died or broken down, it may lead to various complications, including losing your essential data. When you lose data from your iPhone, you need to apply some iPhone recovery methods to recover all the stored data. Depending on the circumstances, the methods to get the data off a broken iPhone may actually vary. Here, in this article, we have mentioned quick effective methods to answer how to recover data from a broken iPhone.
Quick Methods For Broken iPhone Data Recovery
Having a broken iPhone is unfortunate, but thankfully there are various iPhone recovery methods that you can apply to get your data. If you need to recover data from a broken or dead iPhone, you need to apply some iPhone recovery methods. In this part of the blog, we have provided a few iOS data recovery software and methods to retrieve your important data.
Method 01: Recover Data from Broken iPhone via iTunes
iTunes allows you to restore your files by creating backup of all important data on your iPhone. You just have to extract data from iTunes backup files and then access these files when you damaged your iPhone.
Go through the following steps to recover your iPhone data using iTunes backup files:
Launch iTunes and then connect your broken iPhone to your computer.
Locate and select your iPhone on the iTunes main screen. Else, you can use the Finder option to select it.
Choose the "Restore Backup" option.
Now, you will get several backups appearing on your select and you need to choose the one that you want to restore.
At last, click Restore and wait for a few minutes.
After successful completion of the operation, you will get all the data of your iPhone on the laptop/computer screen. If that doesn't work, you need to use some other method.
Method 02: Recover Data from a Broken iPhone via iCloud
If you use iCloud to back up data on your iPhone, then you can recover data from a broken iPhone using it. This data recovery iPhone method can be performed directly on the device without connecting it to a computer. You just need an iPhone that can at least be turned on with the initial setup screen. Follow the below-mentioned steps to recover data using iCloud:
Firstly, switch ON your iPhone.
From the initial setup screen, go to Apps & Data.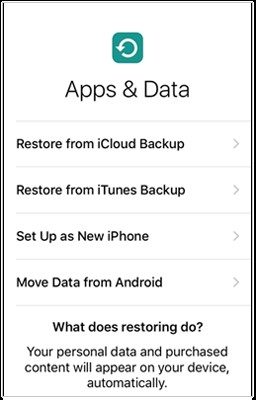 Click on the "Restore from iCloud Backup" option.
Enter the login credentials to sign in to your Apple ID.
Now, you will get all backups available for restoring on the screen. Select the most recent one or one that contains the data that you want back.
Wait till the transfer process is successfully finished.
Now, you need to provide your Apple ID once again to complete the setting process on your device.
Method 03: Use Professional Data Recovery Tool
If you are still not able to recover data from your broken iPhone, then you should try specialized iOS data recovery software. There are several iPhone data recovery software available online that you can use to get the data back. Many users found tools like Stellar data recovery for iPhone or similar alternatives best for this purpose.
To use Stellar data recovery for iPhone to recover your data, you need to go through the following steps:
Download and install "Stellar Data Recovery for iPhone" software in your system.
Launch the software and select the type of data that you need to recover. Click the "Next" button.
Select the "Scan" option, after which the scanning process will be started.
Preview the found data, select and click the "Save" button to save the recovered data at the desired location.
Quick Tips to Protect Your iPhone Data
The methods to recover data from broken or damaged iPhones are quite easy. However, if you don't want to ever experience such a situation in your life, you need to develop some good habits. These habits basically help you to protect the data on your iPhone. Always keep the following important tips in your mind to ensure such situations do not happen again:
Maintain regular backups. Semi-automated tools like iCloud and iTunes can help you to back up all your data with ease.
Manually copy important data to another storage device.
Never download suspicious apps on your iPhone. Don't download anything out of the official iTunes store.
Also Read: How to take screenshots with iPhone
Conclusion:
Recovering data from a broken iPhone is not impossible, but quite difficult. In this guide above, we will help you to know how to recover data from a broken iPhone. We have provided some effective solutions that you can try to get all your data back on your damaged iPhone. Stellar data recovery for iPhone is a useful iPhone recovery software which you can use to fix many iOS data loss problems.